g. roslie natural dyed modscape landscape textile art 'silence'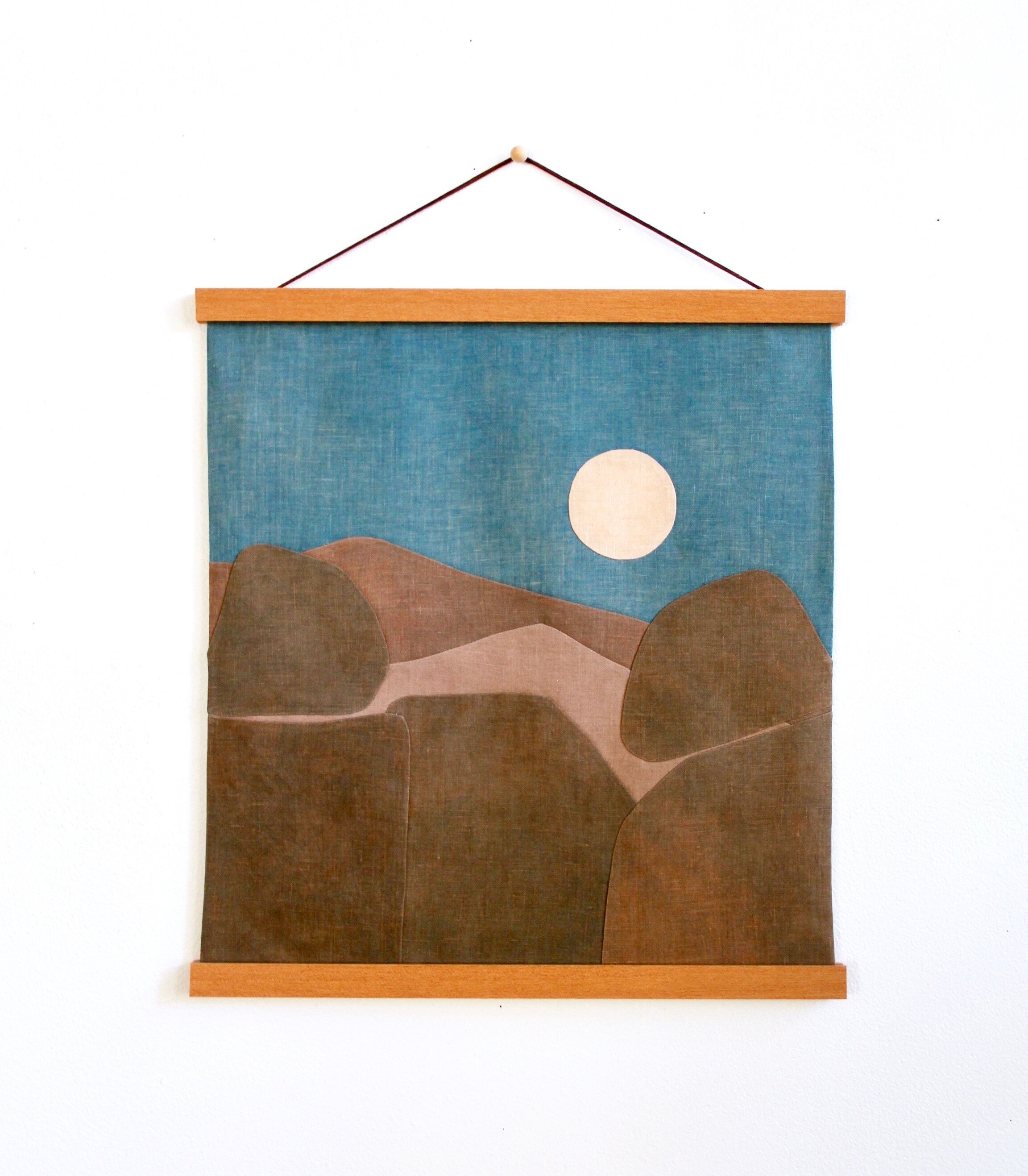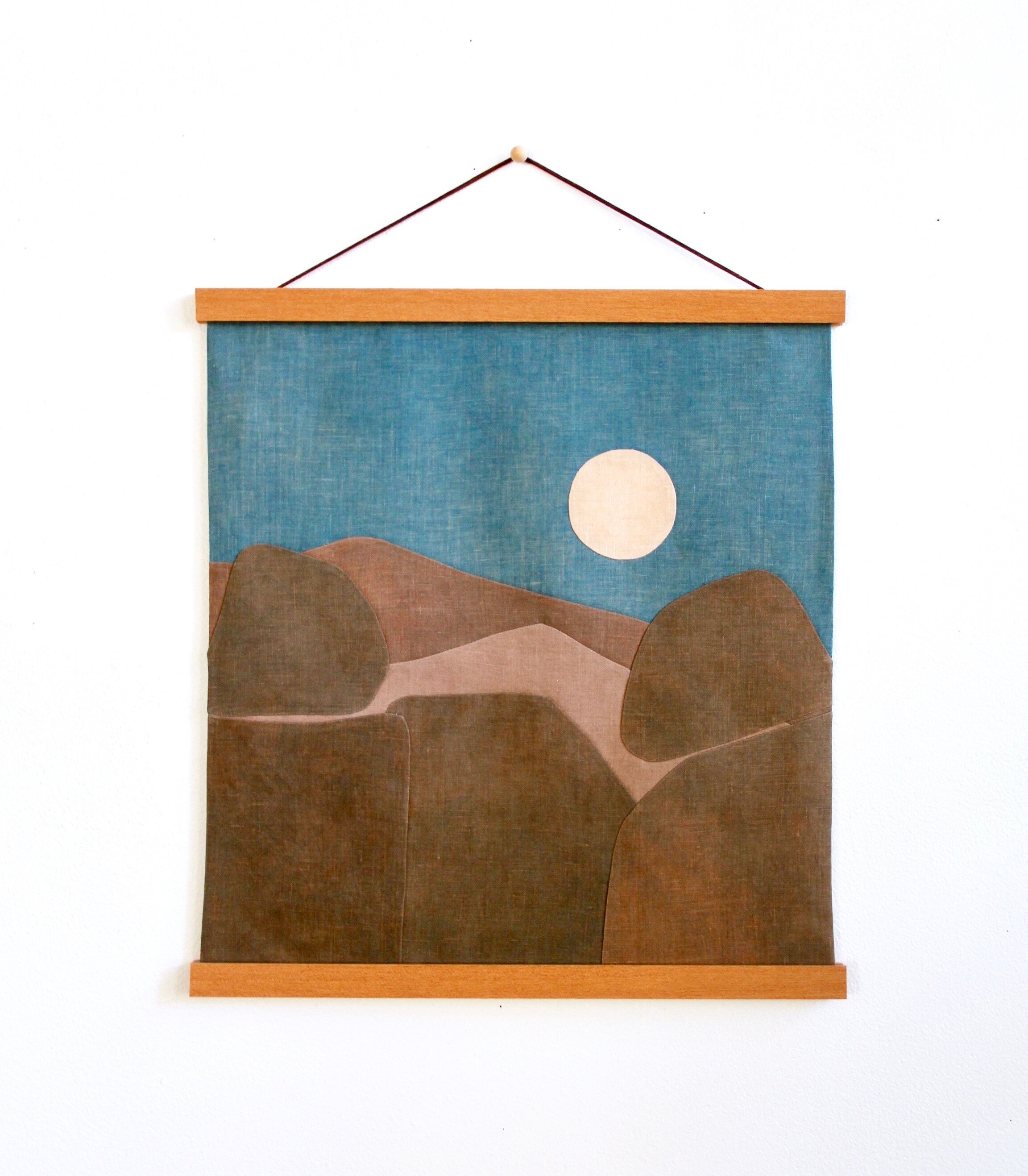 g. roslie natural dyed modscape landscape textile art 'silence'
g. roslie's ModScape series - 'silence'
each one-of-a-kind ModScape textile art is conceived as a visual experience of a natural landscape found wandering the earth, memorized in the mind's eye or by photograph & re-created in a minimalist, modern abstract fashion onto a textile art form combining my love of natural places, natural dyeing, textiles, modern design & art. my aim is to create a sense of peace, calm & contemplative reflection through the work i do for both myself and the viewer.
: silence - an abstract modern expression of a desert landscape and the silence it brings. there's deep trust in the the massive boulders, nature's stoic statues emanating powerful energy, sitting precariously stacked on one another as if in meditation for millennia. the nude pink moon lights up the teal night sky & brings soft clarity to the present moment where ashes of the ancient ones lay bare in this stark landscape. i feel this poem deeply when i am in presence of the humbling desert landscape:
I wish I
could say this desert
to you. But I
cannot say
in words
what I am, only
what I
am not, what
occurs beyond me
and is
therefore
knowable. It's
beautiful here: wide
-open, empty. Come
with me. There is
so much
less
to say here.
~david hinton from desert:poems
dims: 13.5" x 15" length (frame width 14")
all 'modscape' textile art series are made from naturally hand dyed linens and/or vintage remnant linens. the reverse side is solid linen or muslin. the magnetic open wooden frame lends a beautiful structure to the textile art while keeping it tactile & accessible.
please note that all of my goods are hand made using recycled, vintage and/or new eco, sustainable, organic materials. i spend countless hours putting my love into each piece i create starting from hand selecting the fabric, hand washing, drying, dyeing, designing, drafting & cutting the pattern to sewing, stitching, ironing.... natural dyeing is a very lengthy process involving days to weeks of preparation starting with scouring, organic soy milk curing & finally immersing in the precious botanical dye bath. the results are always surprising & the inherent beauty of natural dyed textiles are the nuances of coloration that give each dyed piece it's one of a kind, unique characteristic. naturally dyed textiles are gentle on the environment whereby eliminating the cocktail of toxins associated with synthetic dyeing processes but it is an incredibly involved & time consuming process. naturally dyed fibers also fade with time & direct, prolonged exposure to the sun can quicken the fading process so it's good to be mindful of hand washing separately & sparingly with like colors with very gentle ph neutral detergents in cold water & drying naturally out of direct sunlight. naturally dyed textile art should be hung away from direct sunlight. as with vintage, recycled or repurposed materials, there are inherent markings that some may consider "flaws" ~ i personally find that it's these beautiful little "scars" that give each piece it's own special character, imparting a uniqueness that i could not create with a brand new piece of fabric. i love the perfection of imperfection and i don't discard fabrics due to these "scars". please keep this perspective in mind if you are thinking of purchasing any of my goods.